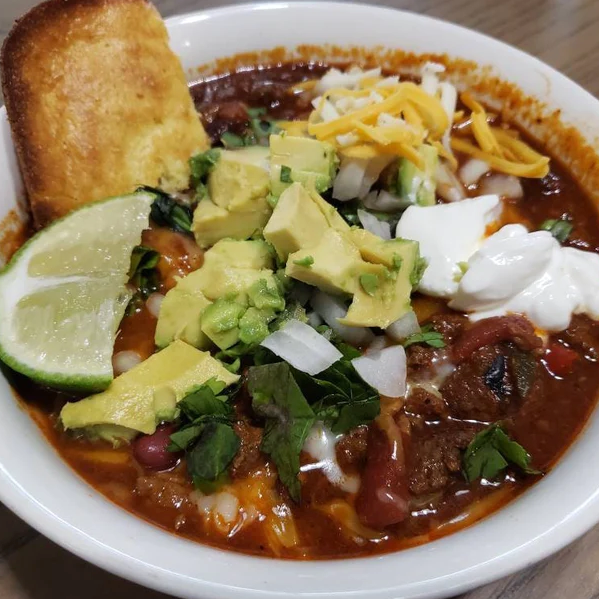 Texas Chili Championship 
So we just had our fall neighborhood chili cook off and can you believe it... we won. There were 7 contestants this year and in total about 20 tasters. We do this every year in our neighborhood for the last 7 years and even people that don't live here anymore still come back to attend this event so it is a lot of fun and a great way to get to meet your neighbors and eat some great food.
This year I wanted to try out the Down South Smoke Texas chili seasoning kit. These guys are legit and make some awesome spices and I am a rabid fan of their candied jalapenos, so I made this years championship chili exactly according to the recipe instructions with one minor substitution.
The recipe is pretty straight forward and it makes a lot of chili so lets get into it and show you how its done and at the end you get see what we won for the first prize in this chili championship contest.
So first I started out by chopping the veggies, one whole onion and one each green and red bell pepper. You could go all green or all red here if you like, or even a yellow if you are feeling fancy.
Next I started cubing the roast. This is an angus chuck roast but you could do a bottom round roast as well. You will need two pounds of meat once its trimmed and cubed. I went for slightly smaller than 1 inch pieces. You don't want them too big so they will be extra tender and not take up too much spoon real estate while you are eating this.
And the final piece of prep work is to chop one pound of bacon into small pieces. This was some cheap bacon and it had about an inch of pure fat at the end of the strips so I discarded that so its probably not exactly one pound but pretty close.
Now we start browning the meat. You want to start with the roast pieces first. Its important to keep the heat high and don't put too much in at one time or you risk too much moisture in the pan and then you just boil the meat instead of browning it which looks gross and doesn't taste as good either.
Then we browned the ground beef. 2 pounds and I think I used 90/10 here but you can use whatever you want, just be sure to drain it well when you are finished browning it off. Now keep in mind I have not added any seasoning yet to any of the meat so we will do all of that at once from the seasoning kit at the end.
Finally I am frying off the bacon, same pan, I only used one pan and the crockpot to make this chili which is awesome. So once that bacon is done cooking, pull out the solids and immediately go in with the diced veggies. Using the bacon fat for this step adds a whole additional level of flavor complexity here and if you find that you have too much bacon fat in the pan after cooking the veggies, you could always strain it out, but in this case I kept the bacon fat for the chili because, I am a texan and we don't care about calories, only flavor. You want to cook the veggies until the onions are just starting to get a little clear around the edges and then we are ready to get this going.
Ive got 2 cans of crushed tomatoes here as well as 3 different beans which we will add in the last hour of cooking. So starting with the tomatoes, dump those in then add all the rest of your cooked ingredients plus a tablespoon of Worcestershire sauce and one beer. This was the substitution that I made because I didn't actually have a beer in the house right then so I added 12 ounces of beef stock instead. Finally the seasoning packet. This chili seasoning kit is amazing. I did not need to add any other seasoning and it was so well balanced. Super beefy, the bay adds a lot and it has just the right amount of spice to awaken your taste buds but not burn your mouth out. Its not what I would consider spicy at all, but the seasonings are so well put together this is my go to chili mix from now on.
Now as I said this makes a lot of chili so if you didn't want to make this much at one time, you could easily cut the recipe in half and do just 2 pounds of ground beef, or just 2 pounds of the roast and then use half the seasoning packet and one of the 2 bay leaves. Then you have enough to make chili twice. Then lid on, turn the crock pot to low and let it go for 3.5 hours
The total cook time for this is 4.5 hours so I added the beans in the last hour of cooking. I personally love beans in my chili but it is optional if you are one of those people that likes to eat your chili with Fritos mixed in it. I am a bit more of a chili purist so I like a good hearty chunky chili that doesn't need anything else. And would you look at that deliciousness. I wish you guys could smell that it is soooooooo stinking good.
Now the final secret to this fantastic chili is that I made it the day before. It took about 3 hours to cool down after it was done then I refrigerated it overnight and put it back on low for 2 hours before the cook off started just to heat everything through. Its great fresh as well but you know I think all chili is better the next day some how and I wanted every edge I could get here.
Once it was ready, it was time for the walkout. I was confident but not cocky, nervous, but ready, and the competition was fierce. There were 7 contestants this year in total and a couple of them were pretty good I must say, but in the end, we won the whole dang thing. I wish I got the announce,ent on camera, but I did win first prize. You ready to see it... tada! Chili cook apron. They have always done an apron and it would usually be handed from one winner to the next and everyone signs it once you win it, but the last years winner moved away and took it with them so this is the first year for the new apron and I got to sign it first. Second place winner gets the wooden spoon which also is supposed to be signed and passed on.
It was a great feeling ot win and if you love chili, or consider yourself a chili aficionado, I dare you to try this seasoning kit. Ill place a link in the description here as well so you guys can check that out. Thanks to down south smoke for making this absolutely delicious seasoning kit. I hope you guys enjoyed that and let me know if you are gonna try this out. I promise you will not be disappointed.