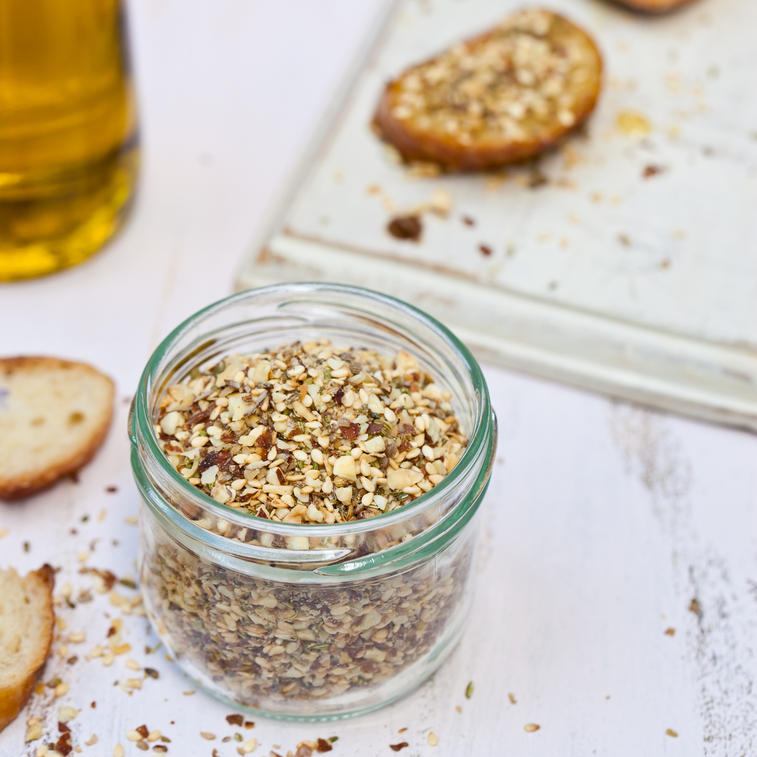 Dukka Spice Blend Breakfast Recipe
Dukka spice blend breakfast recipe
Dukka is a Mediterranean spice blend that is used a as condiment, typically served with olive oil or vegetables and used for dipping. It can also be used for a crust when cooking salmon, but today I am going to show you my favorite way to eat dukka for breakfast, check this out.
So this is dukka made by Down south smoke co in Texas, and it is the best dukka blend I have ever found. Is has almonds, coriander, cumin, sesame seeds and other spices, and my favorite way to eat is is on pita bread, toasted in the oven and here is how I do it.
I take about a heaping spoonful per bread piece and about another spoonful of olive oil. You can certainly vary the quantities if you like more of the dukka or more of the oil, but this is how I like it.
Mix the olive oil and dukka in a small bowl and lay out your bread on a baking sheet. Preheat the over to 350 while you spread the dukka mixture on top of the bread. And again if you wanted ot add some red chili flakes, here or garlic you can certainly do that as well.
Then simply toss that into the oven and give it about 5 minutes to warm through completely. Once its down you can take it out and man oh man does this smell great. It tastes great, and its a wonderful healthy vegan breakfast to get your day started.
I hope you enjoyed this quick dukka breakfast recipe. Try it for yourself and let us know what you think. The link for the down South Smoke dukka recipe is included in the description so head over there now and pick you up some of the worlds best Dukka!